The Maui Market – September 2017:
Popular South Kihei Condos – Maui Kamaole, Hale Kamaole and Kamaole Sands
This month we'll be doing a deep-dive looking at 3 of my favorite and most popular Maui condo complexes in South Kihei all near Kamaole III beachpark.
Before that let's take a quick look at the overall Maui Market for September 2017. We saw increases in sales of condos and an expected seasonal decline in residential sales. In general, prices are still on a slow climb. Exceptions to that are in South Maui where median residential prices have climbed 20% in the last year to $862,500. This is typically our slow time of year where some stats look skewed just because there isn't enough data. It is still a busy market and we expect a strong fall and spring. Several new developments are starting to close and we expect that to bump sales up.
Maui Kamaole, Hale Kamaole and Kamaole Sands – How they Compare
These three complexes sit right across from the grassy Kamaole III beachpark. There are a couple other complexes Haleakala Shores and Maui Parkshore that are located right there but with 76 and 64 units they are much smaller. All the complexes have some units with great views and some without.
The Largest Kamaole Sands has 440 units making one of the second largest vacation rental complexes on Maui. (Ka'anapali Shores is the largest with 463 units). Guests love the center courtyard with it's graceful fountain. Although a few have been modified, it is often remembered for it's magestic spiral staircases in the 2 bedroom units.
Most Land / Lowest Density – Maui Kamaole sits on 23.3 acres and has 13 building with 316 units. Guests love the easy parking and private feel. All buildings have 1 bedroom / 2 bath units on the 1st floor with 2 bedroom units upstairs. Because of it's lower density and larger units, it is popular with people looking for second home too!
The Oldest Hale Kamaole was built in 1974 (same year as Haleakala Shores and Maui Parkshore). It has 188 units in 8 buildings. It recently went through a major exterior renovation so that may have had something to do with dip in prices.
Most Expensive Maui Kamaole prices have been coming down the last few years but it's prices are still higher. The units are generally larger and have large lanai's — up to 260 sq ft of lanai! The chart below shows all units sold.
All of the complexes are great vacation rentals and have good rental income when well managed. You'll pay above median by quite a bit if you have a great ocean view!
DATA IS LIVE!
Comparing Sales Prices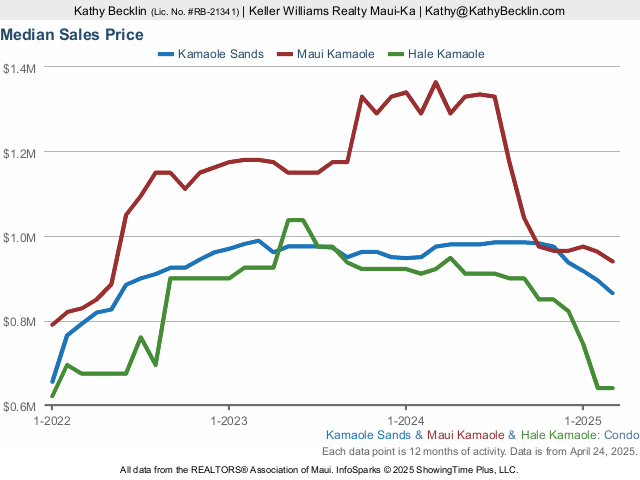 Should I buy 1 or 2 bedrooms?
The answer primarily comes down to your preference for use with your family and friends. Both perform well. From the rental statistics I've reviewed, I usually see a slightly higher return on investment on 1 bedroom units. The reason is twofold; lower priced properties often perform better and secondly, 1 bedrooms are in higher demand during our peak season (with highest rents) in January – March. 2 bedrooms are more popular during the summer as families come to visit however rents are slightly lower then.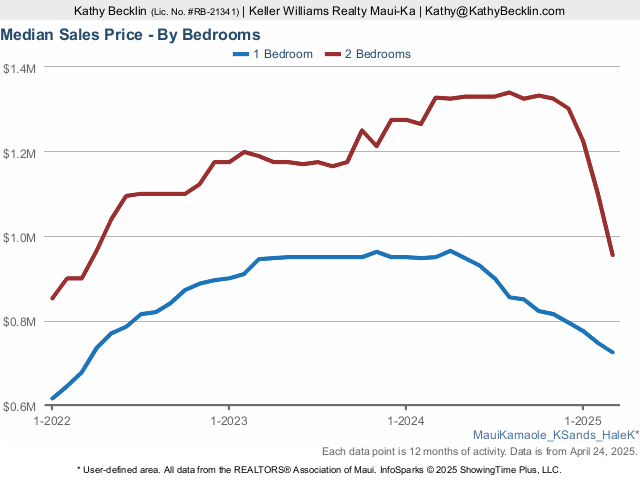 Have questions? Looking for a complex or comparing a few? Contact Kathy at 808-344-0469.