Popular Kihei Starter Condos – Kihei Shores, Keonekai Villages, Southpointe at Waiakoa and Kihei Villages
First a look at the overall Maui Market…
Sales are very strong for October where we typically start seeing seasonal slow-down. There were 257 sales in October 2017, compared with just 195 last year. Prices in general are up over 6% over the year. We have the lowest number of active listings (less inventory) than we've seen since 2013! This all shows a very strong market and I would say it is a Seller's market. From what I've seen, the Canadians are back, despite their dollar exchange rate still being .78 and they have cash to buy a piece of Maui!
This month, I'm taking a look at 4 popular Kihei starter condos – perfect for renters who want a start in this market. I was also going to include the newest Kihei development Kamalani but there is not enough data. They are priced a little bit higher than resales but have features that are appealing at a good price point! Call me at 808-344-0469 if you have interest in any Kihei properties.
Kihei Shores, Keonekai Villages, Southpointe at Waiakoa and Kihei Villages – How do they compare?
The Largest , Oldest and Lowest Density: Kihei Villages which has 532 units in 60 buildings on 24.3 acres of land. Their were 6 phases of construction – 4 built in 1989. It is 1-4 block walk to Sugar Beach depending on where in the complex you live. 1st floor units with yards sell for more as do units closer to the beach. There is a total of 799 parking stalls (no tandem) so some units have 2 deeded with 4 areas for visitor parking. 476 2b/1.5 bath, 56, 2/2, pets allowed.
Southpointe at Waikaloa – 346 units, Built 1991 14.8 acres 480 Kenolio Rd
few blocks to Sugar beach. Mostly tandem parking, 31 buildings on 14.8 acres, all 2 story. 1st floor units mostly have yards. 60 2B/1B, 208 2b/1.5b, 68 2b/2b and 10 homes. Pets allowed.
Keonekai Villages – 256 units, built 1992 11.5 acres 160 Keonekai Rd
Easy 3 block walk to Kamaole III, most parking is tandem
48-2B/1B (no dishwasher or laundry), 160 2/1.5, 48 2B/2B Allows pets, no pool.
Pool And Close to Kamaole Beachpark III: Kihei Shores – 217 units, built in 1992. 6.93 acres. Was built as worker housing for Wailea Development . Has small pool and spa. Located at Kamaole III beach park (best location). Two assigned parking units , 1 unit close to unit. 8 buildings up to 4 stories , some "basement units" that tend to be least desireable. Also, some units are 3rd + floor with no elevator. No pets, 2747 S Kihei Rd. 10 1B/1B, 3 2B/1B, 165 2B/2B, 39 3B/2B.
DATA IS LIVE!
Max Time Median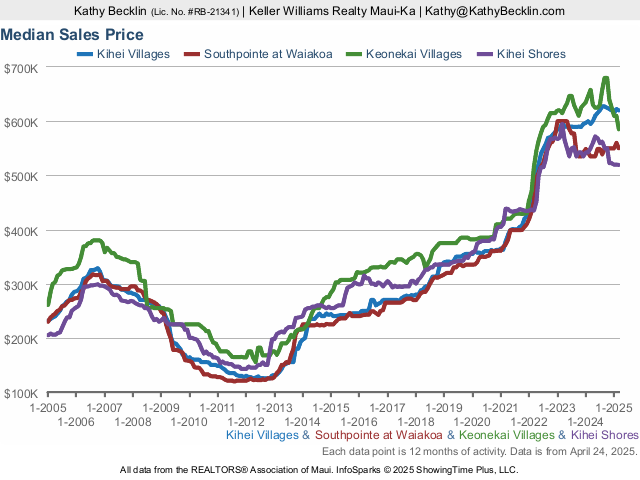 3 Years Median Price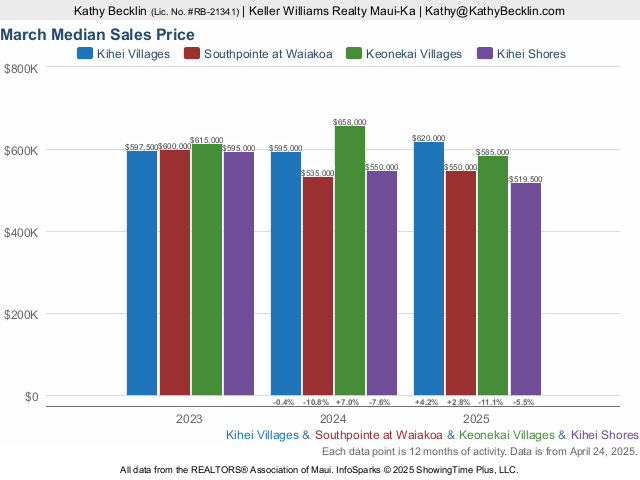 Maui Market Snapshot. 1-page PDF report showing trends for each Area of Maui
Have questions? Looking for a complex or comparing a few? Contact Kathy at 808-344-0469.