Maui Market Report January 2019
I admit it. I copy and paste old posts when I do stats reports. It is really cool that the InfoSparks tool keeps all the updated data. I can just change my comments! I do run my own data too with a few special items. The snapshot at the right is one I generate. What does it mean for the Maui Real Estate Market in 2019. More of the same. Not much change. There is lack of inventory resulting fewer sales and higher prices but overall a pretty steady market. See my predictions at the bottom of the post.
Exciting news: The County of Maui has approved new limits that allow building/expansion of 'ohana units or accessory dwellings. The driver is our housing shortage. This will also allow many non-conforming units to be legalized and values to be adjusted. Please see this summary written by the REALTOR's Government Affairs officer.
I recently watched a newscast from Australia stating that their housing market was collapsing. They stated that the hot areas were already down 20% and expectations would be they would decline 40% from original value. When we were deep in our recession, their market was booming. Seeing similar lending practices, it doesn't surprise me at all. What was surprising is that they seem to have less than great building codes and some predict that the new homes built in last few years will have a very short life. Ah- the housing market; always something new/challenging.
The housing market will have highs and lows just like any economy. However, with population growth still growing we need more housing and values over time will continue up. Maui population has had steady growth since the 1970's with small slowing since 2012. We grow slower than some areas but growth is inevitable.
What's Changing?
Remember our 3 price groups — under median, over "luxury" and the middle. I look at just residential properties. One thing to remember that these price groups are based on today and 10 years ago were quite different; however, it still shows a lower, middle and top of our market.
<$699,999 (blue) which is about our median price for residential properties. Median means that half the sales are under this price and half are over. Median residential prices are now $713,000 based on data from the last 12 months.
Luxury (in

green

). Luxury is defined as the top 10% of the market. The chart uses $1.35 m based on luxury residential last June 'luxury' is anything over $1,632,500. The in-between median and luxury – shown in

red

on the chart below.
Notice the low level back in 2009-2010. There was one big dip followed by short recovery followed by market tanking. We see a much more refined version of this in 2016 to current while the higher end climbs. I do see market declines but not nearly as drastic as 2007. Nor as long-lasting!
DATA IS LIVE! So outcome may indicate differences from my conclusions.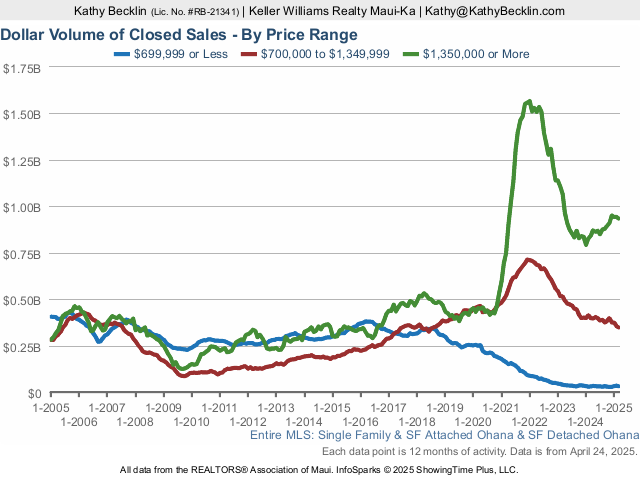 Changing Inventory and Prices in the Maui Market
The last thing we look at is inventory (months supply) and prices. Inventories are still at historical lows. Prices are relatively stable.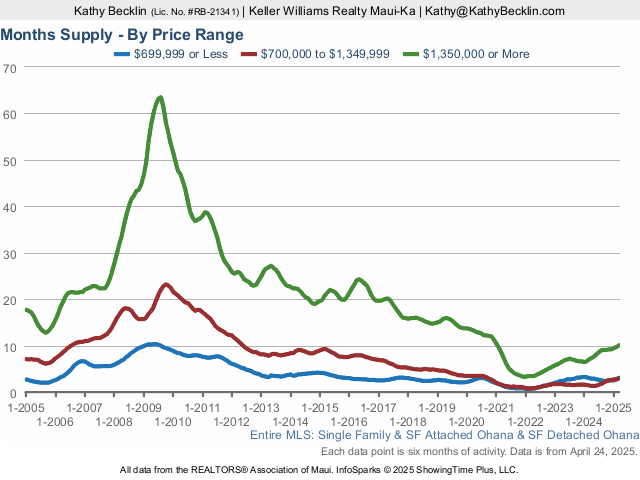 Average Sales Price slight decline
Since the average price lines at the luxury level looks like an erratic EKG, I removed that to show more detail in the 2 other areas. And you see just stability and slight decreases at below median prices. However, median prices are still going up.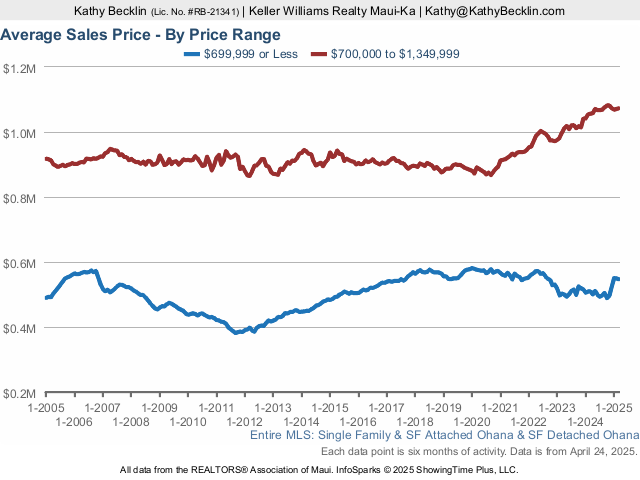 Kathy's Predictions
from 6 months ago –> Right now I'm going to say that even with increasing loan rates, we are going to have slow and steady growth through 2018. Around March-April of 2019, we may see some softening and by year end 2019 through 2020, a slight (5%) reduction in median prices and slower market.
Mortgage rates went up throughout 2018 with peak in November (4.81 for 30 year conforming) and are now down to 4.42. That combined with low inventory may be enough to keep market solid and prices stable or rising. Our rental market is out of control and that may encourage many to consider home ownership. I'm seeing slow continued growth through 2019 unless world economic situation changes drastically.
January 2019 Maui Real Estate Monthly Reports
Have questions? Are you looking for specific data to support your selling or buying? I'm the one to connect with! Contact Kathy at 808-344-0469.