Expecting a Change in the Maui Real Estate Market?
It has been awhile since I did a market update. I'm still waiting for some good indicators of the Maui market shifting. Last week, I was in a class on the "Shift" – the time we in the real estate business know is coming when the market prices fall, sales slow down and REALTORS have to work twice as hard. A few people I talked to after class expected more local data to be presented to support the question "Is a shift coming?" The class didn't go into that except to say that it will happen; it always does. The question is WHEN, as we know the cycles have changed pretty dramatically. From what I see, there isn't much indication that the market will change soon.
Most of the charts below are LIVE data so if you check back, you may see a SHIFT. I set up the charts to go back to 2005 (when our current MLS and stats collection came to be) so you can see the last big shift that started showing in 2006-2007, followed by the financial crisis of 2008. Based on my data – the previous LOW point for Maui was right around February 2009. Remember that the market shifts happen very suddenly, but indicators show for a long period before. In the following charts, the data is a 12-month rolling average. It is hard to read at other levels but I do watch because the shift can happen in a very short period that may not show on a rolling average for many months.
I looked at 3 price points — under median, over "luxury" and the middle. Because our vacation rental condos seem to follow different rules, I wanted to keep it simple and used just residential properties. One thing to remember that these price groups are based on today and 10 years ago were quite different; however, it still shows a lower, middle and top of our market.
<$699,999 (blue) which is about our median price for residential properties. Median means that half the sales are under this price and half are over.
Luxury (in

green

). Luxury is defined as the top 10% of the market. Year to date, that makes anything sold for $1,350,000 or more defined as luxury.
The in-between median and luxury – shown in

red

on the chart below.
Housing Volume – Up at all Price Points in the Maui Market
Notice that in the 2009 timeframe, we had seen closed volume going down for a year. What is common here as in other areas, you see a peak of volume at the low end of the market (See 2006) long before the middle and top markets adjust. We are not seeing this right now… unless the blue (low-end) slowing trend is an indicator. If the middle red-line continues to dip, I predict that we'll start seeing sales volume fall similar to trends of 2007.
DATA IS LIVE! So outcome may indicate differences from my conclusions.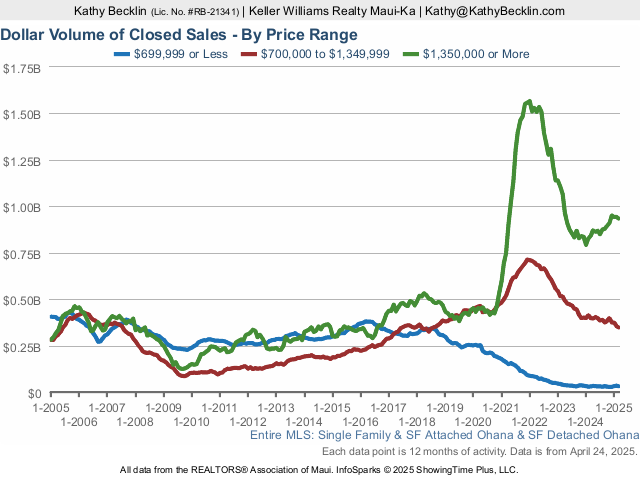 Days On Market in the Maui Market
Looking at our days on market (DOM) shows how fast homes are moving. In our MLS, the days on market is from the date a property is listed until a sale is closed. That includes the escrow period which is usually 30-60 days. So DOM includes the time it comes on the market, to when there is an accepted offer and the escrow period. As an example, I recently listed a cute 4/3 in Pukalani. It went under contract 2 days after it went live and we have a 30 day close. It would be 32 DOM. We are seeing many lenders who are closing in 30 days now. What I'm looking for is to see a significant differential between the blue and red lines as we saw happen in 2007/2008. You may ask, why would that occur? Many buyers at the lower level do not have a home to sell and are not upgrading. When the market starts to change, middle market sellers may sit and wait for the right buyer at the right price. Right now, it all looks pretty stable.
Median Days on Market Residential –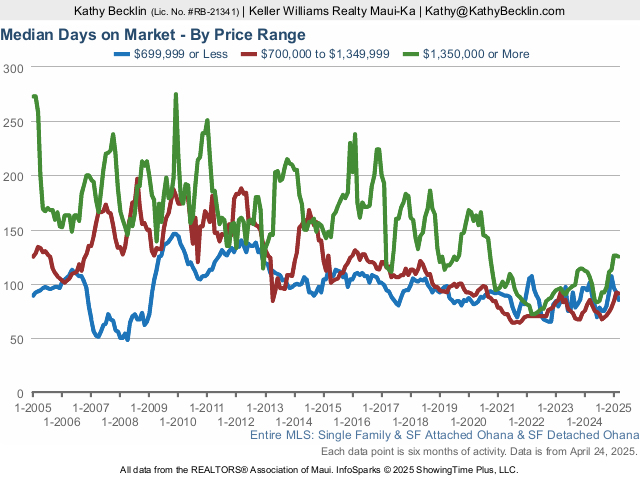 Changing Inventory and Prices in the Maui Market
The last thing we look at is inventory (months supply) and prices. Inventories are still at historical lows. Prices are relatively stable.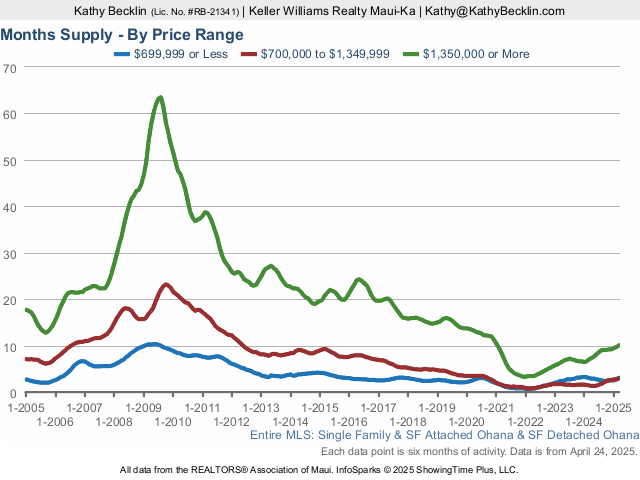 Since the average price lines at the luxury level looked like an erratic EKG, I removed that to show more detail in the 2 other areas. And you see just stability and solid increases at below median prices.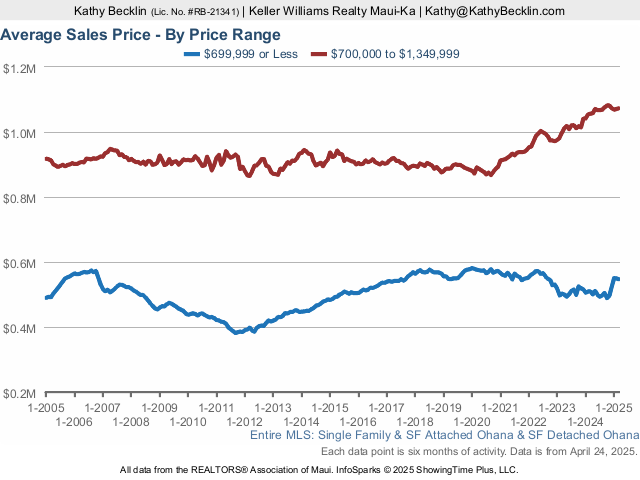 One REALTOR friend believed that high-end buyers were more market saavy and may see changes coming and adjust before the rest of the market. Ok, here I added the erratic EKG back in.
Do you see a pattern in the luxury green line?
Look at the previous charts and tell me
what you think!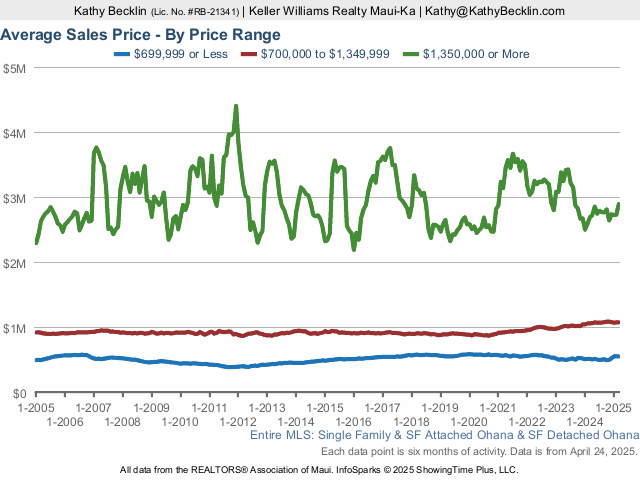 Kathy's Predictions
Right now I'm going to say that even with increasing loan rates, we are going to have slow and steady growth through 2018. Around March-April of 2019, we may see some softening and by year end 2019 through 2020, a slight (5%) reduction in median prices and slower market.
Have questions? Looking for a complex or comparing a few? Contact Kathy at 808-344-0469.
Maui Market Snapshot. 1-page PDF report showing trends for each Area of Maui. Click image to see full details.